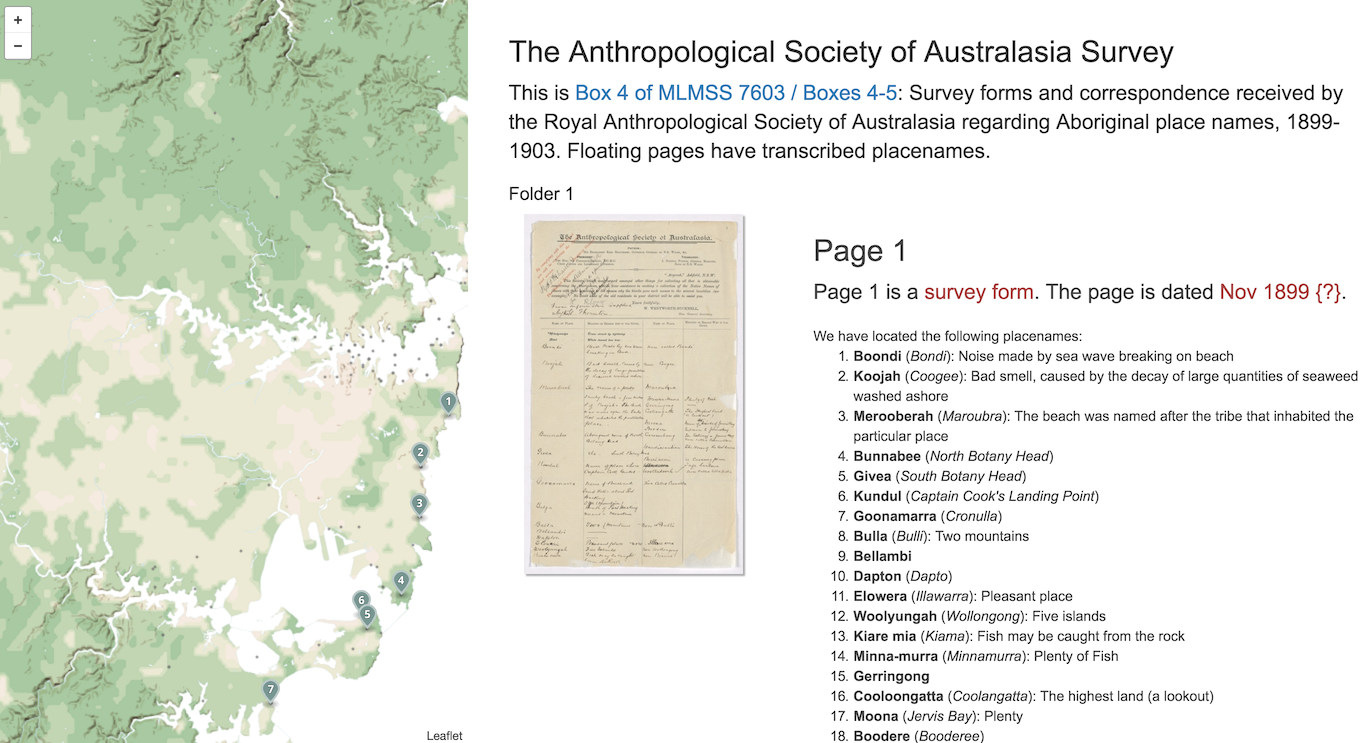 11.4.2016
Post by Chris McDowall, Creative Technologist
A few weeks ago I was lucky enough to spend a week working as a DX Lab Digital Drop-in. Ahead of my visit, Paula shared a pair of spreadsheets, which would serve as the basis of my experiment:
A list of manuscript pages from Box 4 of MLMSS 7603: Survey forms and correspondence received by the Royal Anthropological Society of Australasia regarding Aboriginal place names, 1899-1903.
A list of transcribed and geo-located placenames from specific pages within the MLMSS archive.
I spent the week exploring this dataset and building Weemala (best in Chrome). In this post I want to give you a sense of what the week looked like and what we produced.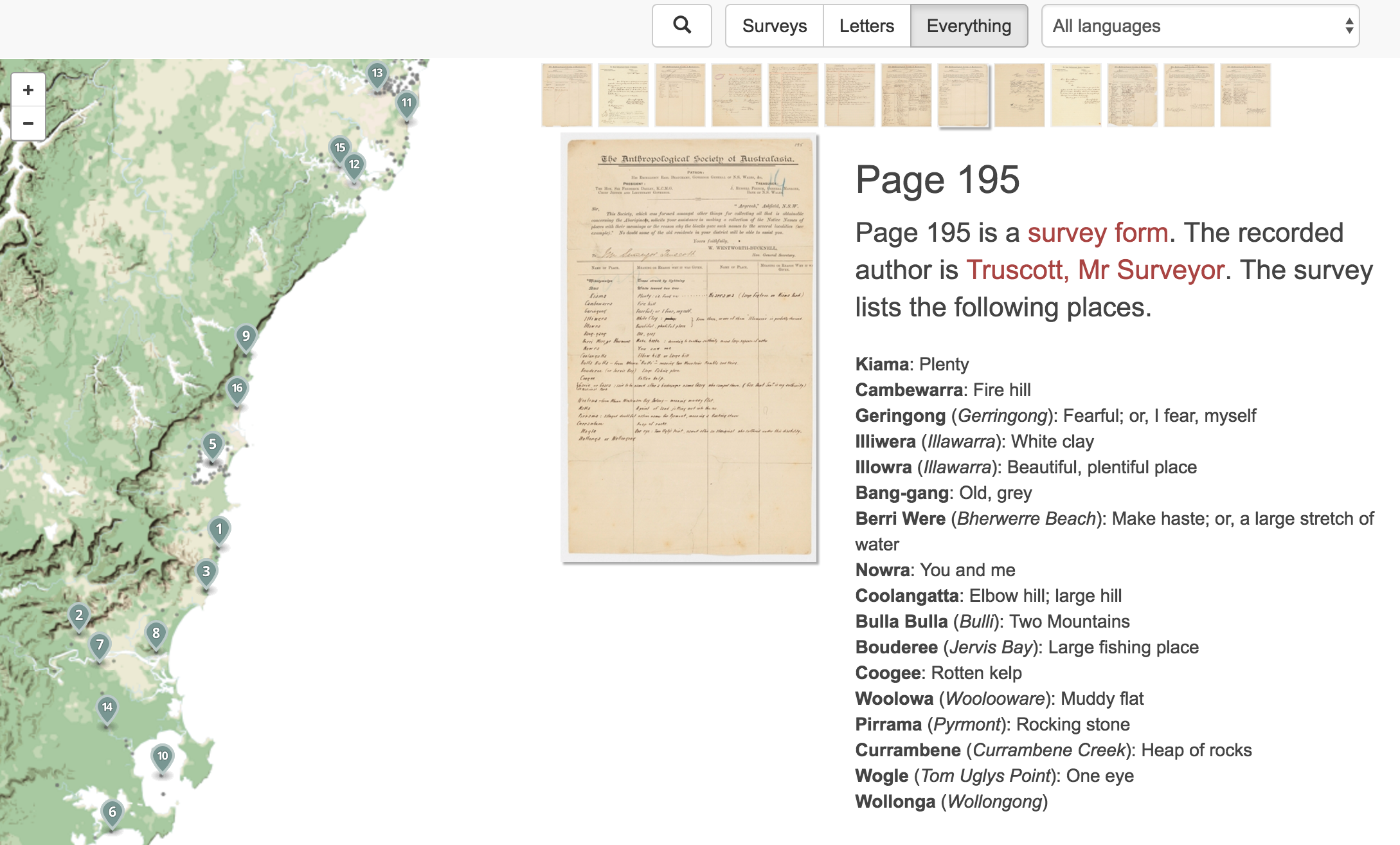 Over the weekend I played around with the placenames table. I wrote a small D3.js application to filter the places by possible language group and plot them on a map of NSW. This small prototype helped me get a sense of the shape of the data.
On Monday morning I met with a group comprised of people from the Library's Indigenous Services team, Emma Pike from Kaldor Public Art Projects and the artist Jonathan Jones. It was a fascinating and wide-ranging discussion that explored topics like:
The veracity of data.
The chain of people a catalogue records passes through.
Blindspots spots in collective memory.
"Landscape as filing cabinet."
Thomas Mitchell's maps and sketches of 19th Century NSW.
The relationships between land and language.
Following this session I reviewed the metadata spreadsheets with the Indigenous Services team. This gave me a much better sense of the structure and nuances of the data.
I spent most of Monday and Tuesday sketching, first on paper and then in code. I became interested in the physicality of MLMSS 7603 and how the various pages in the archive relate to the landscape. I wrote a Python script to ingest the spreadsheets and connect each transcribed placename to the page where it occurs. This data parser outputs a standardised JSON representation of the archive. I also wrote an image harvester to collect small and large versions of each scanned page so I didn't keep bothering the Library's media server.
Over Wednesday and Thursday I built a tool to visualise the structure of the archive. I used the excellent Packery library to tile the pages on the screen and then experimented with various buttons and dropdowns in the top navigation to control what get displayed and how. On Thursday I had another session with the Indigenous Services team and we explored what I built to date where we talked through the importance of having some geographic expression of the placename data.
I spent Friday tidying various bits of the application and adding in a map view. I had suspected throughout that I would include a map representation somewhere in the application, so during the evenings I worked on creating a set of custom cartoCSS scripts to style a custom Mapbox layer. I wanted to create a map that would give a sense of the shape and landcover of Australia and that wasn't covered with modern placenames and transportation networks.
A test map of Tasmania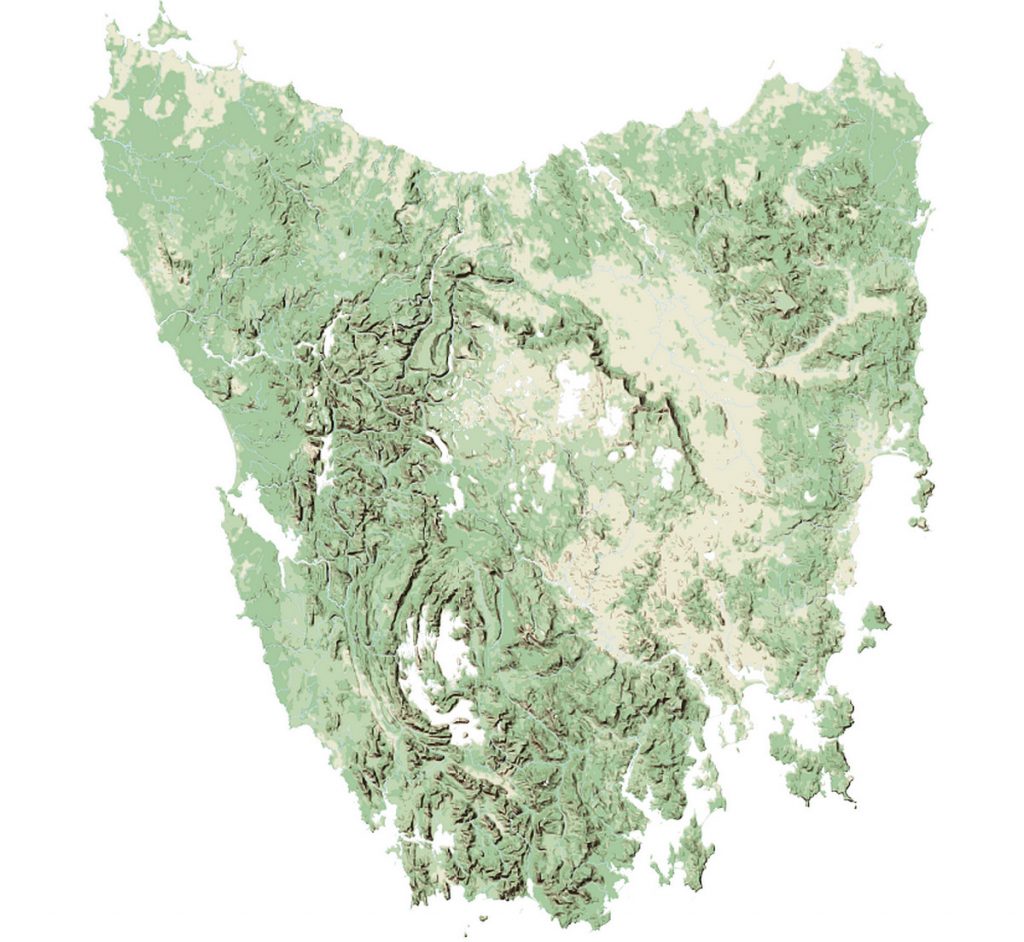 I left DX Lab on Friday evening with most of the pieces in place. Since returning home I spent a few mornings tidying the various loose threads. The final experiment is available for you to play with here. There are all sorts of things about the tool (and the code!) that I would like to change and improve. I would love to build something else with this dataset given the knowledge that I have now. However, I am proud of where this work got to in just a handful of days.
I have the following reflections on the experience.
A week is a very short time and I wonder what I would have achieved in twice the length, although there is nothing quite like a tight deadline to focus the mind.
I believe this experiment would have benefited from user testing. However, I think we would have needed more time to incorporate a design, test, build, test loop.
There are tremendous benefits to working in person. The time I spent with every member of the Indigenous Services—as well as their extraordinarily helpful intern, Marc Smith—was incredibly valuable. Their knowledge of the collection and their understanding of its context was both inspiration and guide. I do not think we could have moved so rapidly if I was working remotely.
There are many, many things I would like to do with more time. Thanks to Luke Dearnley for an excellent conversation on future directions and whose suggestions I've folded into this list.
Link through to the appropriate State Library NSW catalogue page and high-resolution images. The metadata I have only enables me to determine the URLs for preview images.
Permanent URLs for pages and places for convenient bookmarking and sharing
Tooltip-style previews displaying key information about pages
All sorts of efficiencies around image size
Text search in control bar
Next page / previous page controls
Smarter stuff around map-first exploration. At the moment you can only really through browse pages and then see the results on a map
All sorts of trials and adjustments to filter & view controls.
Uhh… actual user testing ¯\_(ツ)_/¯
Rediscovering Indigenous Languages Project – by Kirsten Thorpe, Manager Indigenous Services
The collection items made accessible through the DX Lab project relating to Royal Anthropological Society of Australasia, were made accessible by the Library as part of the wider Rediscovering Indigenous Languages project. The Rediscovering Indigenous Languages project website aims to make accessible the rich archival collections of the State Library of New South Wales. The site features historic word lists, records and other documents relating to Indigenous Australian languages.
Transcribing the Indigenous Australian language materials from the State Library collection
Collection items identified in the Rediscovering Indigenous Languages project have been made available on the Library's transcription tool. State Library volunteers, and other members of the public, have begun the important process of transcribing these significant documents. This will enable further discovery and analysis of the word lists and vocabularies, particularly by Indigenous Australian communities who are working on language revitalisation projects.
Community consultation and feedback 
Many Indigenous communities and individuals are working tirelessly to revive language in their local areas. The State Library of NSW would like to acknowledge these efforts and hope that these language resources can be utilised as part of this process.  It is important to note that the context that these records were created in are clear; they were written in most cases about Aboriginal languages by non- Aboriginal people. For this reason, the written word may not accurately reflect the ways in which an oral language was spoken and transmitted. Further information on community consultation is available here
To find out more about Indigenous Services at the State Library visit here
SPECIAL CARE NOTICE: Deceased persons
Visitors should be aware that the Rediscovering Indigenous Languages website may contain images or documentation relating to Aboriginal and Torres Strait Islander people who are deceased.
About the word lists and vocabularies
This website is not intended to be an authoritative source for Indigenous Languages in Australia. The language lists available from the State Library of New South Wales were recorded historically by many individuals — both amateurs and professionals — who documented Indigenous words, placenames and meanings. This includes records from explorers, surveyors, first settlers, missionaries, anthropologists and linguists.
Visitors to this website should be aware that the language documentation may not reflect current understandings of the use of some languages. Some lists may also record words and meanings inaccurately.
This website will change over time as more documentation becomes available. We encourage users to share their knowledge and information they may have about language of their areas.
Users are warned that there may be words and descriptions which may be considered sensitive and/or offensive in today's contexts.
This interface is not optimised for IE.