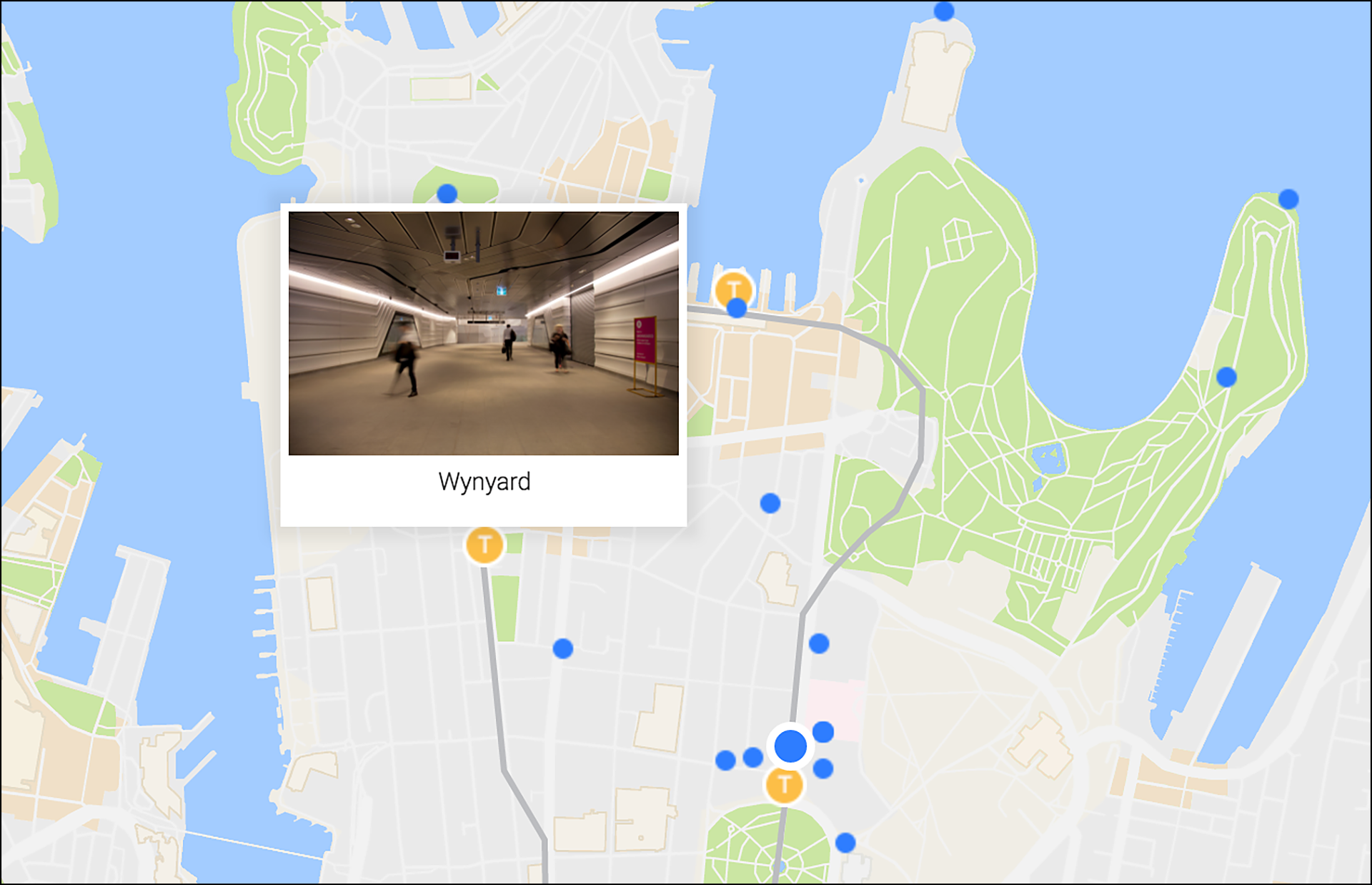 25.5.2017
What would Sydney have been like if Mr John Young's 1877 proposed 'City of Sydney and Suburban Railway Extension' had actually been built? Would Sydney-siders be better off with this version of the City Circle Line or the line that was eventually built serving thousands of commuters every day?  This map, in our collection, has been a source of interest to us in the DX Lab for quite some time and was an inspiration early on in the creative process for the making of our data visualisation Loom.
"In 1877 the Sydney Resident and Builder John Young proposed an alternative railway loop for Sydney. "the plan proposed by Mr. John Young, the eminent contractor, appears to us to be the simplest and most comprehensive one, for it not – only brings the railway to a central point in the city, but also clears away all the foul abominations that exist on the margin of Darling Harbour, providing in their place commodious public wharves, to accommodate the large ships visiting our port" Illustrated Sydney News and New South Wales Agriculturalist and Grazier (NSW : 1872 – 1881), Saturday 23 June 1877
'Young Sydney' is a digital experiment, a proof of concept set out to compare John Young's version of the city and how it would look in a modern context, exploring speed of travel and how our city might have changed in the intervening years.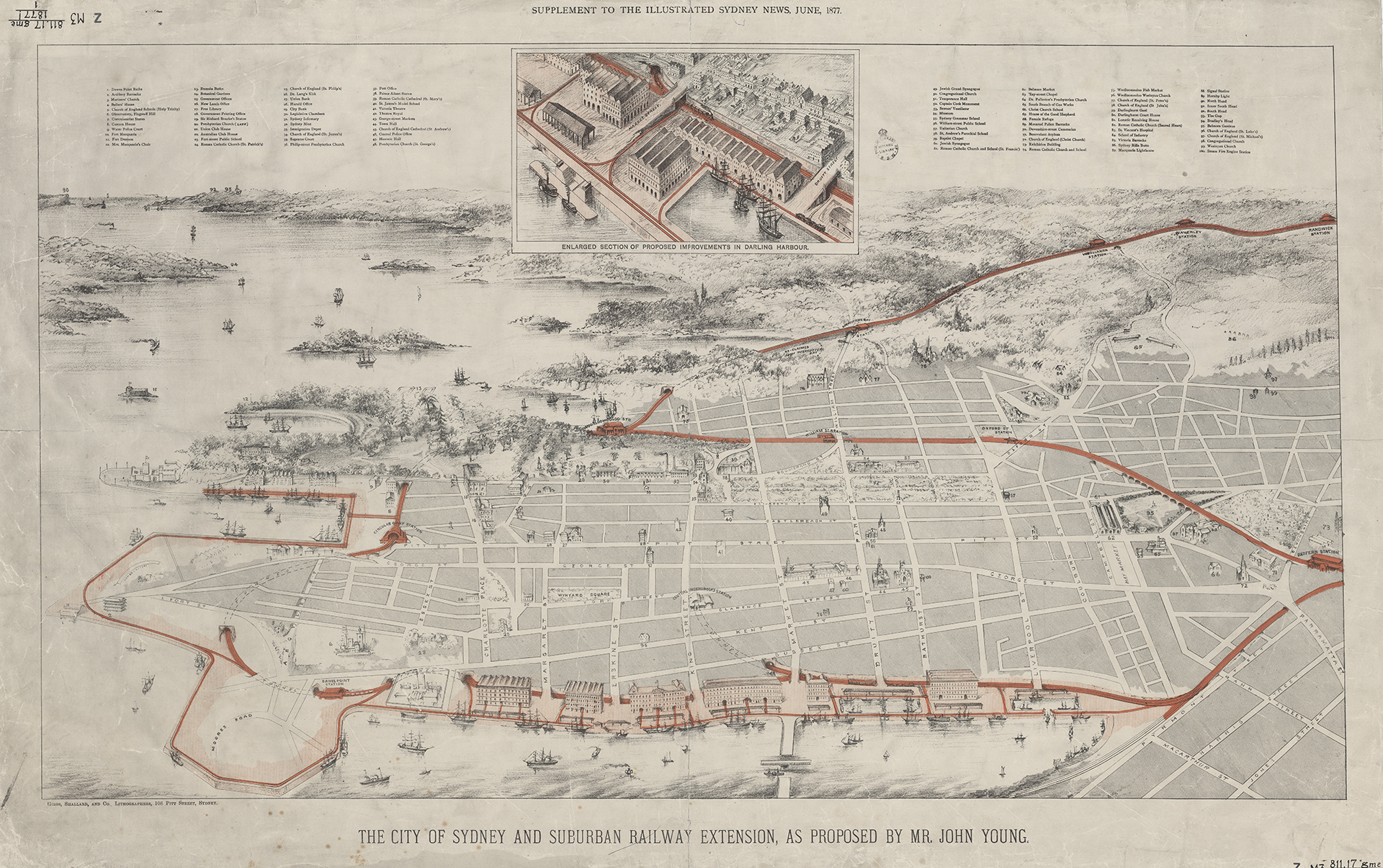 The stations that were proposed in John Young's railway extension include: Circular Quay, Dawes Point, Redfern, Oxford Street, William Street, Wooloomooloo, Rushcutters Bay, Woollahra, Waverley and Randwick Station.

At the top of the original map is an index of 100 points of interest locations.  Our DX Lab Volunteer John, used Cartodb to map all of the 100 locations and selected images from the Library's collection to include at each point from the same time period.  Some of these locations have been highlighted on Young Sydney.  Each highlighted location allows the user to look at the image in full resolution and links to the catalogue record on the Library's website, where there is more information on each collection item.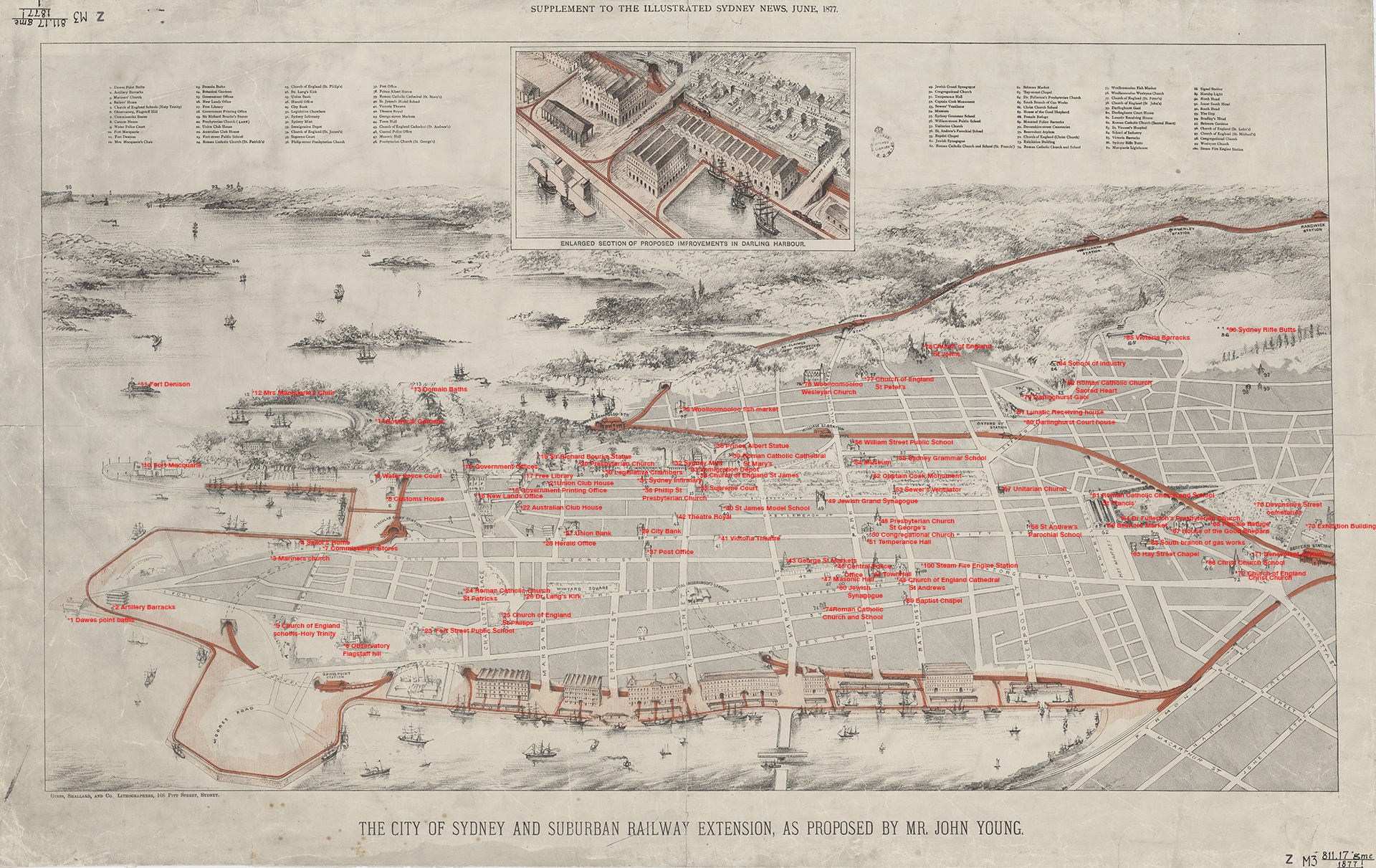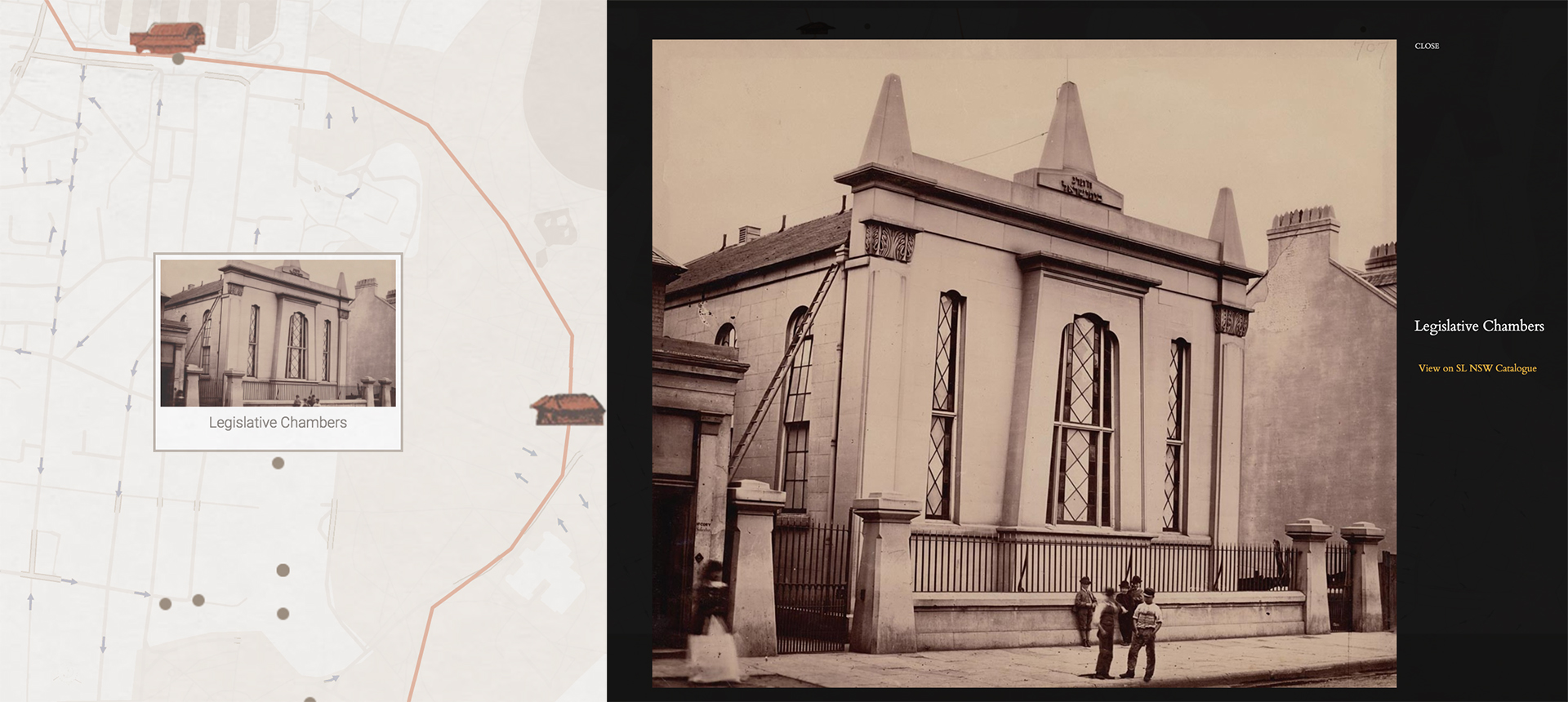 In the 2016 version of the City Circle Line  we are showing the current stations that includes: Central, Museum, St James, Circular Quay, Wynyard and Town Hall Station.  On this version we are also showing the points of interest featuring certain collection items from around 1877.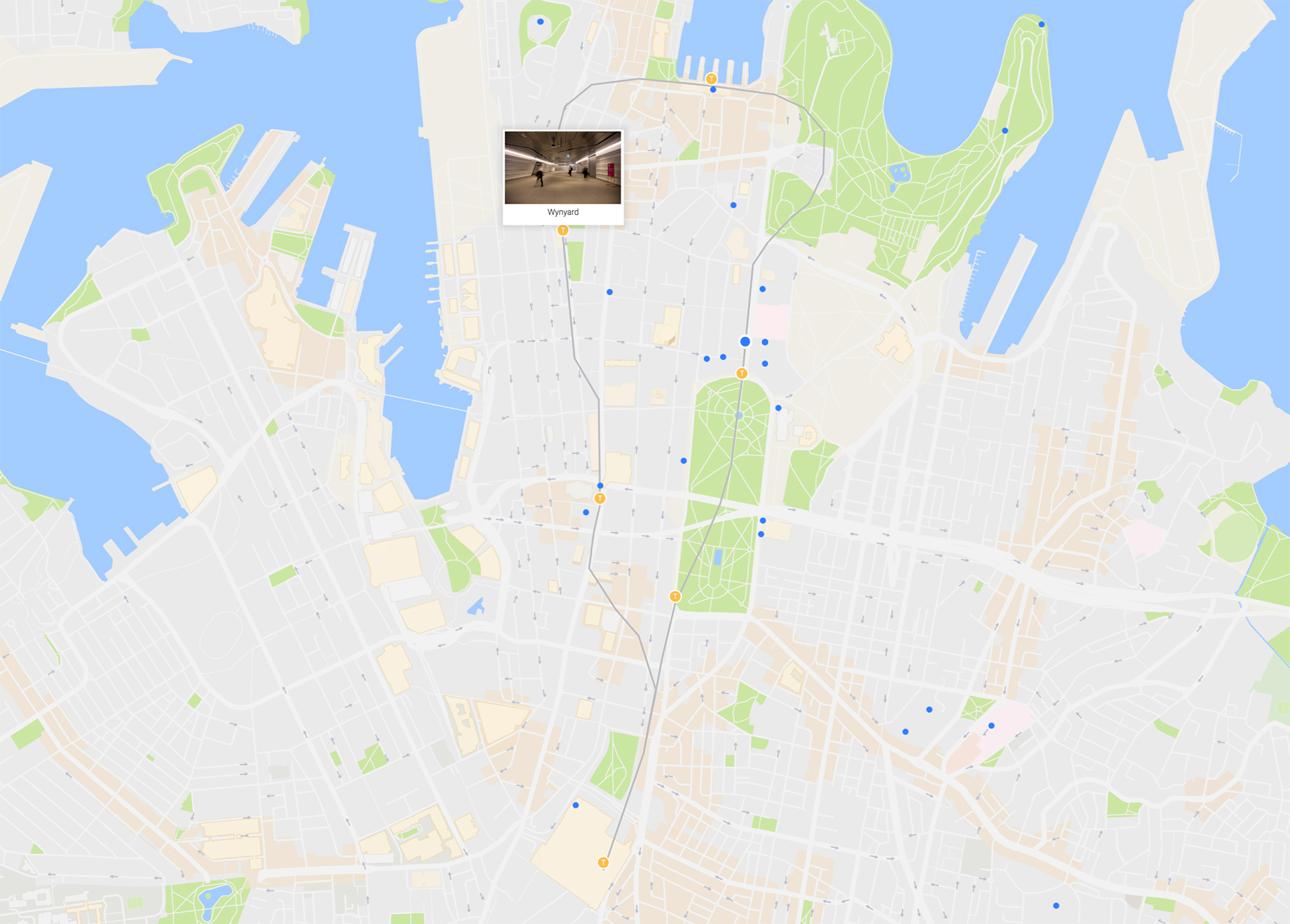 Young Sydney
has been a collaboration with DX Lab and Grumpy Sailor, contemporary photography by Megan Reilly, data research and mapping by DX Lab Volunteer John Kerr and DX Lab Digital Producer Leonie Jones.