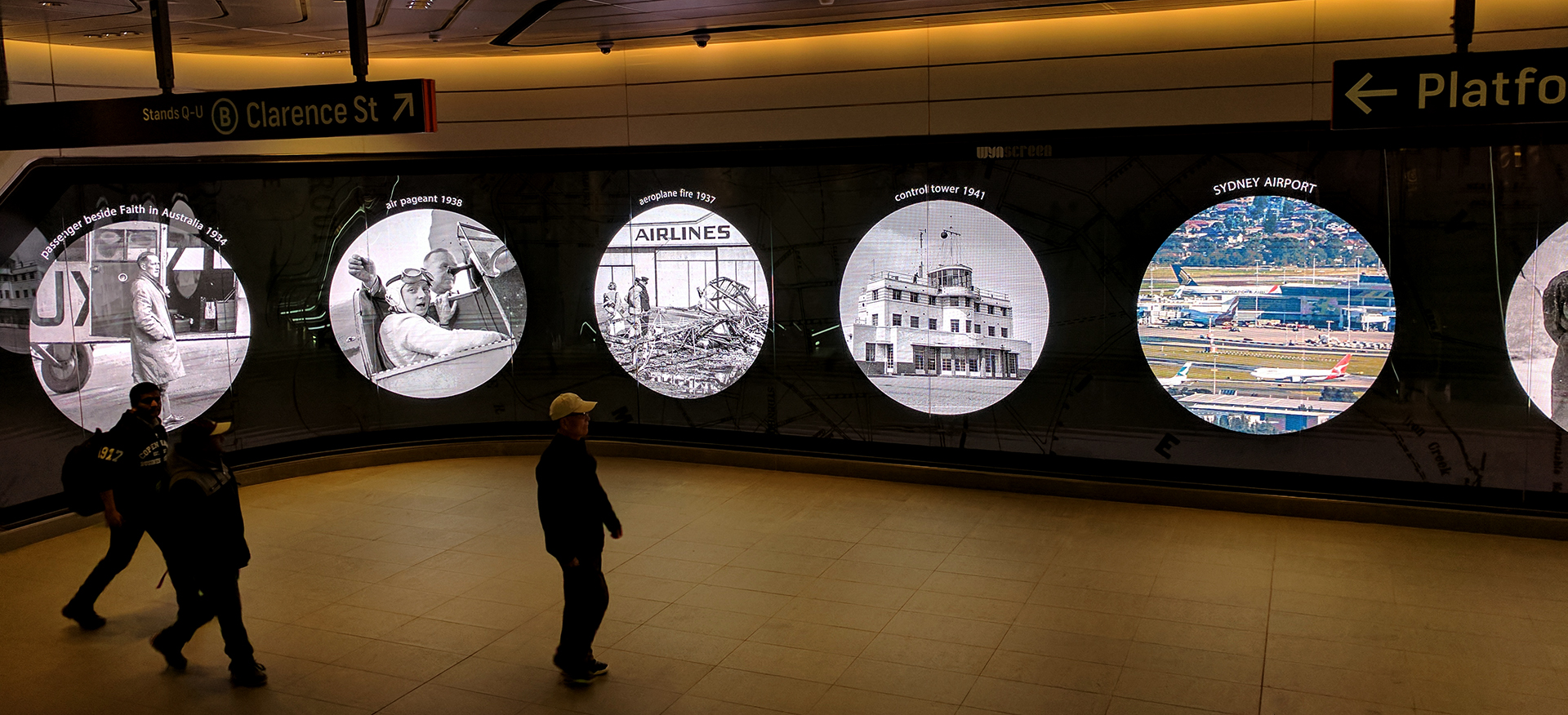 26.6.2017
Wynscreen is a new large-scale installation screen located at Wynyard Station near the York Street entrance. Transport NSW are committed it being used by artists and not for advertising. The screen is over 20 metres long and slightly curved at the edges, showing art, culture and technology in a visually rich way to around 30,000 train passengers every day . The DX Lab and Research and Discovery branch at the State Library of NSW have collaborated with Sarah Kenderdine and Jeffrey Shaw to produce Zooming Sydney.
Professor Sarah Kenderdine researches at the forefront of interactive and immersive experiences for museums and galleries. In widely exhibited installation works she has amalgamated cultural heritage with new media art practice, especially in the realms of interactive cinema, augmented reality and embodied narrative. Sarah is considered a pioneer in the field digital heritage, digital humanities and big data visualisation and is a regular keynote speaker at related forums internationally.

Zooming Sydney utilises the cinematic narrative potential of gigapixel panoramic imaging to create a compelling aesthetic and urban-cultural heritage experience. This artwork presents the world's largest 360-degree photography of Sydney (2014) shot from the Sydney Tower (also known as Westfield Centrepoint Tower), consisting of 125 billion pixels. Virtual camera movements within the spherical panorama zoom in to specific Sydney locations of special historical, cultural and social significance. These locales are then augmented with rich visual materials selected from the comprehensive archives of the State Library of NSW.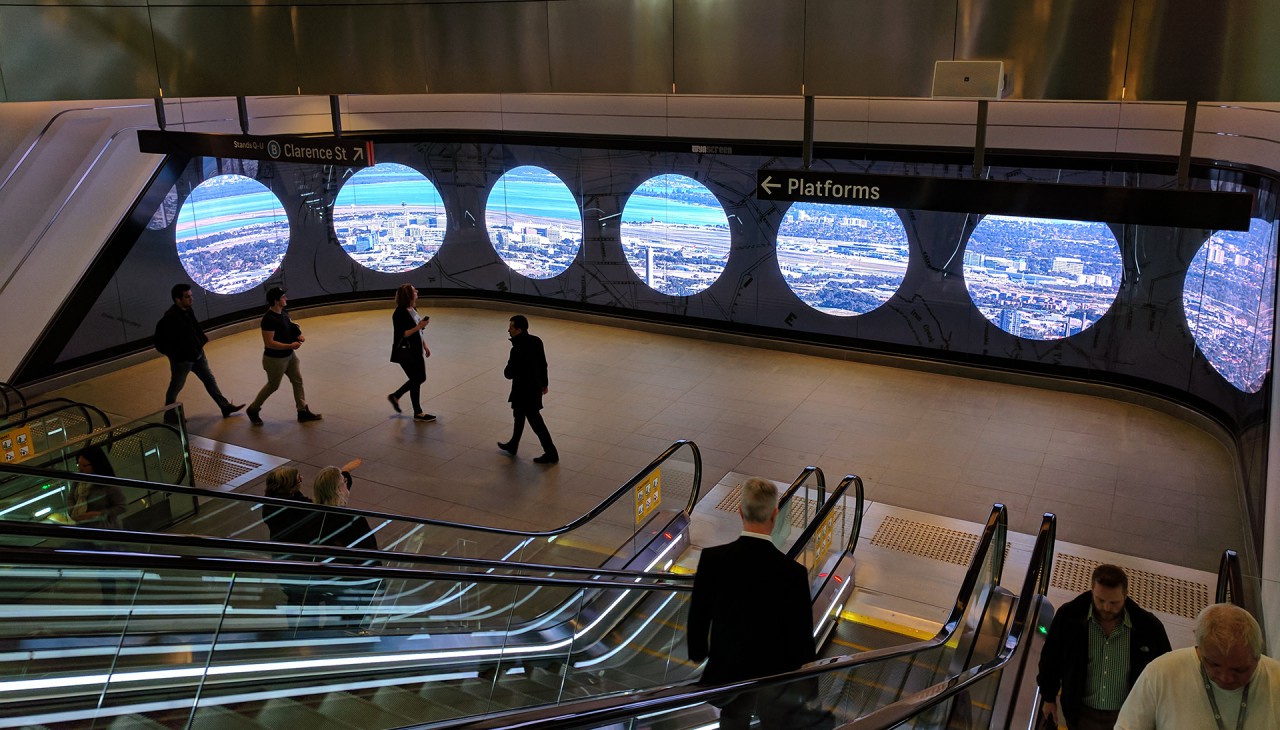 We talked to Sarah and Jeffrey about the making of this immersive experience:
How did you find out about Wynscreen?
The Wynscreen project was curated by new media art curator Alessio Cavallaro, who together with ArtMap Studio, approached us with vision to bring the public spaces of this new precinct to life through art.
What drew you to using items from the Library's collection for this experience?
The archives such as those in the rich and diverse collections of the State Library of NSW are visual prostheses through which we access a multitude of the histories of Sydney. These histories are often hidden to us as we transverse our cities and Zooming Sydney relocates them in public space. The Library has a range of seminal photographic and painted panoramas which initially drew us to work with the collection. The scopic regime of the historic panorama is perfectly synchronous with the ultrawide aspect ratio of the Wynscreen panoramic design. These all-encompassing panoramas allow the flâneurs of the train station to 'step inside' these historic scenographies—and be transported in both time and space.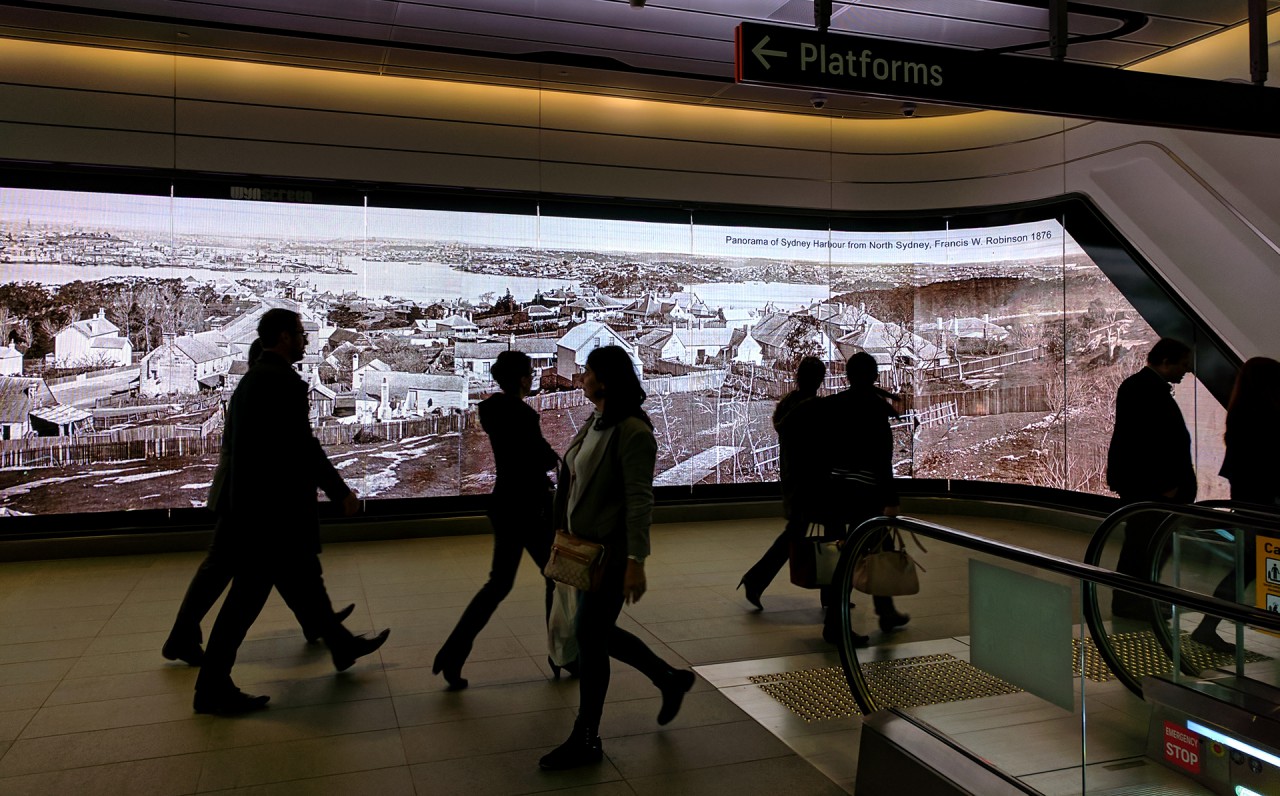 What technical challenges were there?
We had a clear grasp on all the technical issues from the start when dealing with the enormous gigapixel image and how to create camera paths through this data. Significant challenges arose in post-production where the massive files had to edited, composited and rendered (by Paul Nichola) over many months to achieve the final 1.5 hour result.
There were some design changes that resulted in the portholes being created. Can you talk through what this design change had to solve?
During the first 'on screen' test an issue that needed to be solved was the potential for the slowly zooming gigapixel photograph of Sydney, which was displayed in its entirety across the screen, to cause motion sickness as people ascended and descended into the train station on escalators. By creating portholes into this image, the 'zen view' you could say, we were able to overcome this potential issue. It raised another opportunity to incorporate more of The Library's collection. These portholes became frames for many more archival images. The work now contains a mixture of both wide screen panoramas and these portholes of archival images (nearly 200).
The Library would love to acquire the work back into the collection once the experience has finished it's duration at Wynscreen. What should we collect?
We do of course have the original video that for Wynscreen has a resolution of 5760 pixels x 704 pixels. When scaled to fit a normal TV screen it is a somewhat narrow strip of movie. A better solution for public viewing at the Library, could be to put five screens side by side, which would create a fulfilling high-resolution panoramic experience of the work.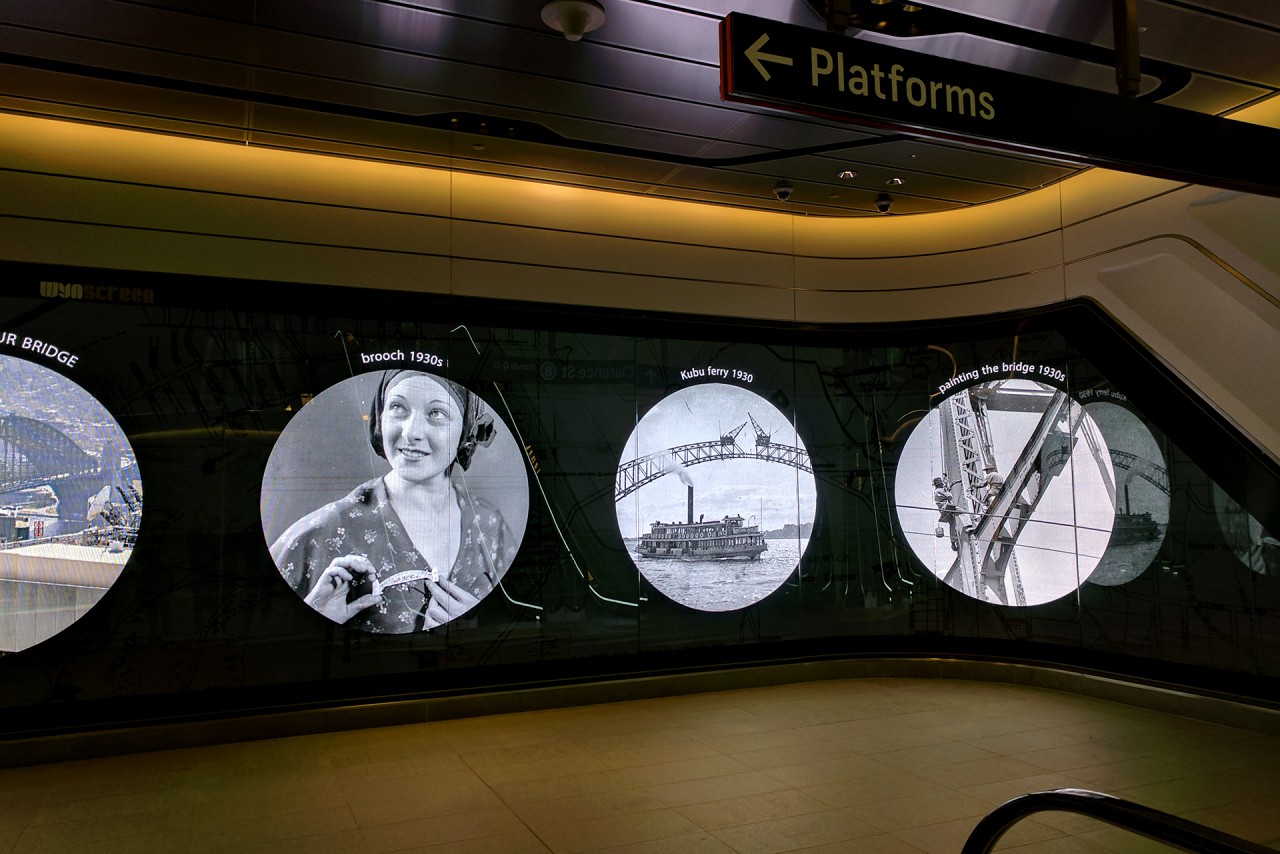 Zooming Sydney is showing at Wynscreen until the 30th June. The times include;
3pm–12am on odd-numbered days from 1 June to 30 June 2017
6am–3pm on even-numbered days from 1 June to 30 June 2017
It will appear again during the year and we will let you know what dates and times this will be.
Production Credits
Conceived and directed by Sarah Kenderdine and Jeffrey Shaw
Project management: Sarah Kenderdine
Compositing: Paul Nichola
Archival material: State Library of NSW, Paula Bray and Maggie Patton
Gigapixel photograph: Pixelcase
Special thanks to Sarah Kenderdine for approaching us to collaborate on this project with her.